No surprise if you are told that New York is a very big city that is (very) expensive. For our first time in the Big Apple, one of the biggest subjects in the preparation of our trip was the choice of our hotel to visit New York. Important part of the budget of any stay in the city, it is also the key to a successful trip! Here are our tips and advice for cheap accommodation in New York (at least cheaper…).
We also explain how we chose our hotel (district, price, atmosphere) and which neighborhoods to choose, especially for a first time in New York.
Finally, we give you a selection of favorite hotels in the city that never sleeps, but you do!
_______________________
Where to stay in New York?
Our tips & favorite hotels
When you go to New York for the first time, you don't know the neighborhoods, you don't find your bearings and you confuse everything!! Here is a simplified map of the city by district, which will be very useful for you to understand what we are talking about!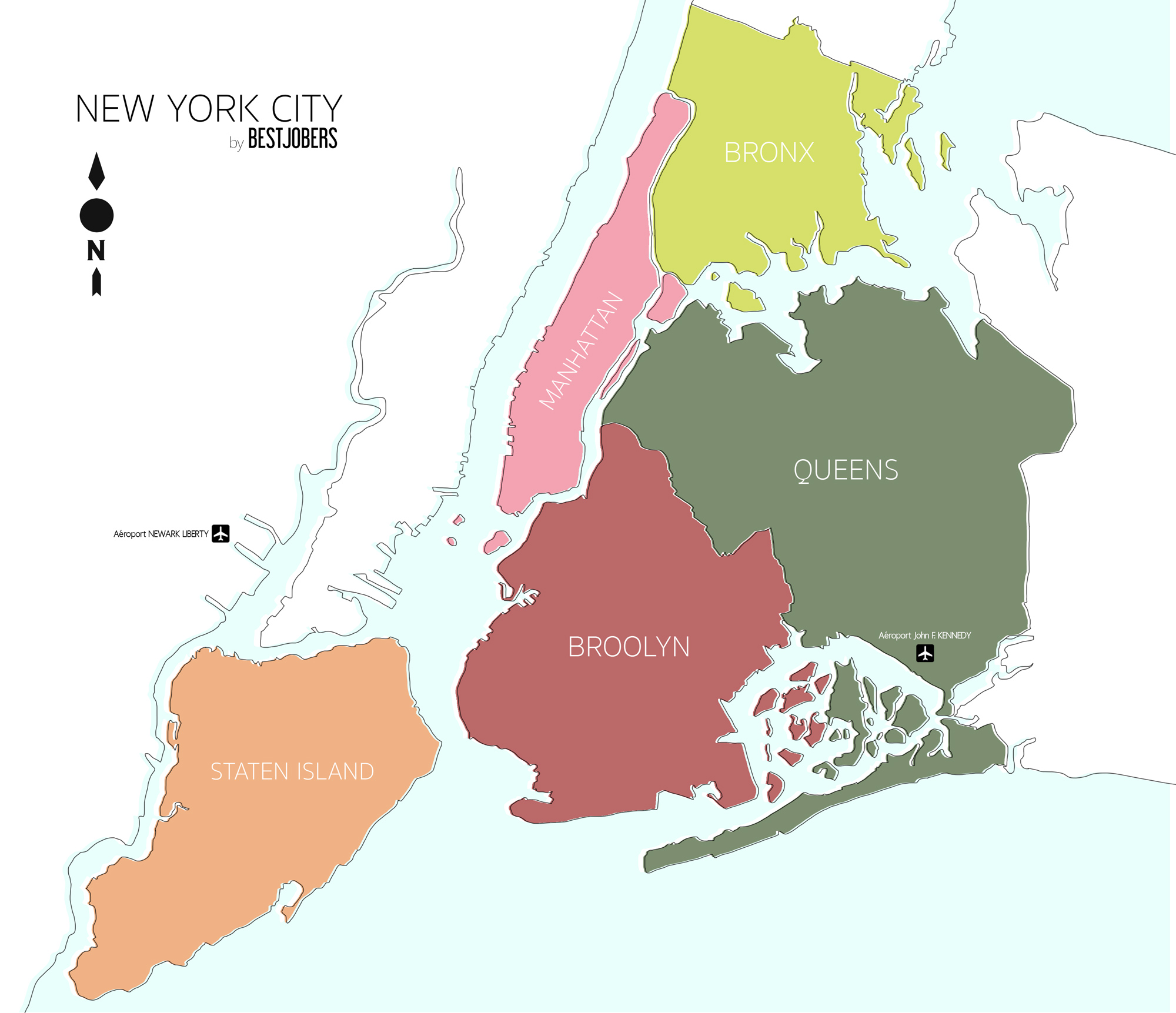 1. HOW AND WHERE TO FIND CHEAP ACCOMMODATION IN NEW YORK?
Accommodation in New York is not cheap, if your budget is very limited, we advise you to forget the hotels (where you have to count at least 100€ for a decent double room not at the other end of the city).
What are the other options?
---
In a private room with the locals (Airbnb-Wimdu)
Unless you are a group of friends or family, forget about renting an entire apartment in New York. Prices are also soaring on Airbnb/Wimdu because the demand for accommodation is very strong. You are alone or as a couple, prefer the "private room" option for rent and for which you will generally share the bathroom, kitchen, living room with your hosts (look carefully at the conditions set to avoid unpleasant surprises).
In the end, when we visit New York, we are most of the time outside, so it can be a good option to save money. In addition, it is an opportunity to meet New Yorkers (or at least people who live there).
New to Airbnb? Create your account with our referral link to earn €25 on your first booking.
---
In a youth hostel (hostel)
If you are alone, with friends on a small budget, sleeping in a hostel will be the most economical solution. The "bed in a dormitory" option is the cheapest, from 25€/person and per night in low season, be careful this price can go up to 70€ in high season… and you will have to share your "room" with about ten people.
It is also possible to book a private double room or for 3 or 4 people with private bathroom or not, but this will not necessarily be cheaper than the hotel. You have to study and compare well… The prices vary a lot according to the seasons.
The website hostelworld is a good place to look.
---
For the more adventurous, you can try couchsurfing, literally sleeping on people's sofas. It's (usually) free and it allows you to meet and chat with locals.
You have to register on couchsurfing.com to be part of this community of couchsurfers around the world.
---
Home exchange with HomeExchange

(formerly GuesttoGuest)
Exchanging your house in a reciprocal way (very complicated) or by "paying" thanks to a system of points accumulated when you lend your house/apartment during the year is an ideal solution to avoid paying for your accommodation in New York. . Except that here, the demand is strong, the number of points requested per night may be high (you must have made a few exchanges on your side to have accumulated enough), you will surely be less well placed in the city and you will have to contact dozens and dozens of profiles to hope to find a place. In any case, it's worth trying because you will only have to pay for your acquired points and 10€/night for insurance.
New to HomeExchange? Create now a profile thanks to our link, which will allow you to earn 100 additional points as a gift when you register. We explain everything in detail in this article: Almost Free hosting is possible, it's worth looking carefully because it's not a scam, you can try to sleep for free abroad without even having lent your own apartment !!
---
Pay less for your accommodation by moving away from the heart of New York.
Sleeping in the heart of Manhattan is the most popular in New York. By making the concession to move a little away from the center, you can save on accommodation. Be careful, however, not to stay too far away or in an area poorly served by public transport because you would then waste a lot of time in the metro!! A mistake that could really ruin your stay in New York.
brooklyn is a great arrondissement but it is gigantic (more than twice the area of ​​inner Paris) and the prices are not at all the same from one district to another. Clearly, anything that sticks to the East River is the most expensive. Dumbo in front of the Brooklyn Bridge is overpriced for example, Williamsburg is very hipster so now expensive. Greenpoint will be a little too out of the way. In short, a tip to remember choose your accommodation with a metro 5min walk maximum and which will reach Midtown in less than 20/30min max.
Sleep in Queens can be a very good alternative, especially around the Queensboro Plaza metro station, you can reach Manhattan in 15/20 minutes by metro (direct Grand Central station) and the view can be very nice!
2. HOW TO CHOOSE YOUR HOTEL IN NEW YORK & IN WHICH AREA, Our experience.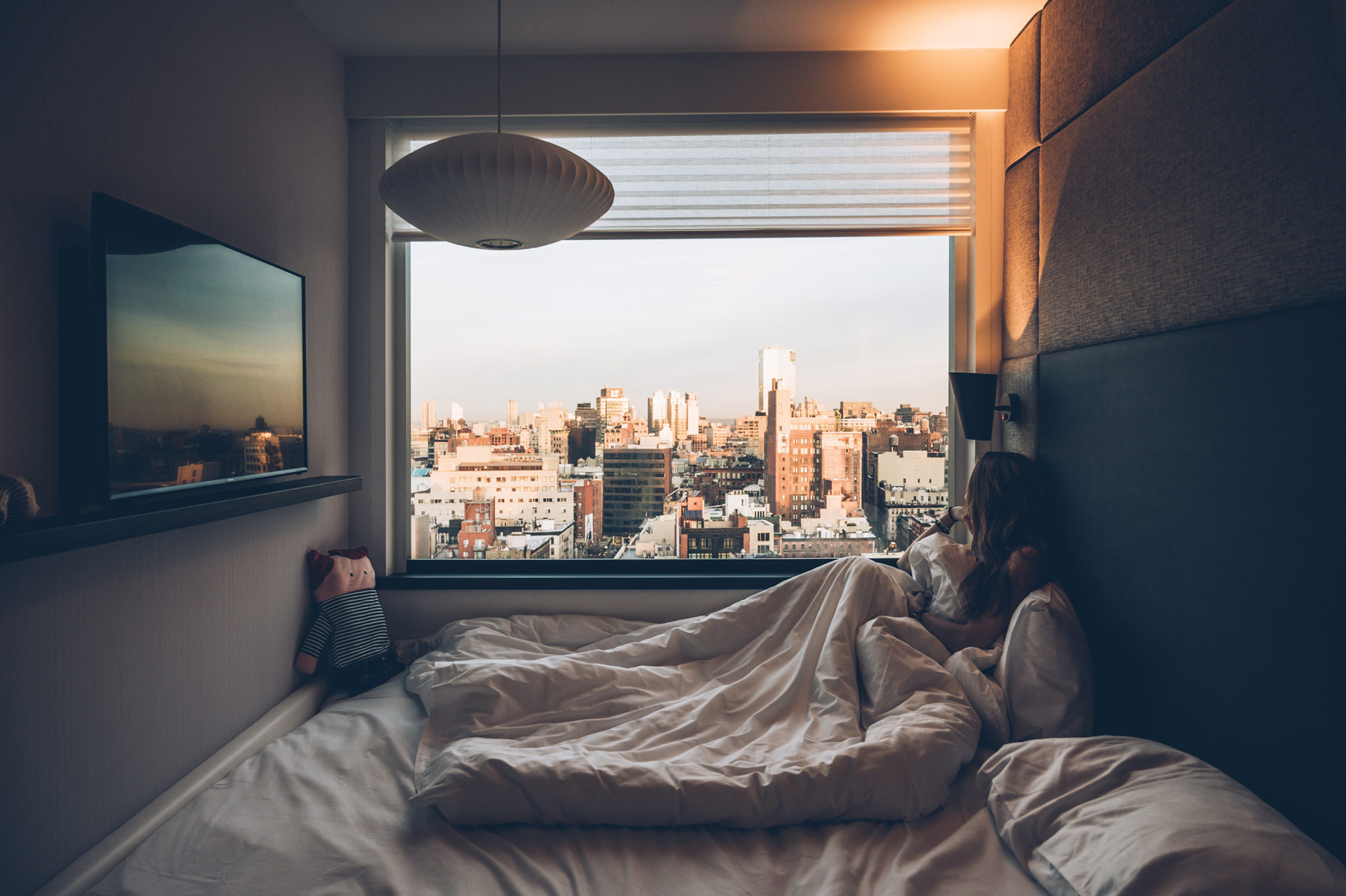 We have reviewed the different alternatives listed above, but we wanted to take a nice hotel for this first time in New York. Why ? For tranquility, to have a stay for 2, romantic, comfortable and a place that we like when we come back from a long day of sightseeing.
If it takes a minimum of €100 per night for a double room at the hotel, we had set ourselves a budget of around €200/night.
We hesitated to test two addresses over the week, to see two different neighborhoods and maybe 2 ranges of hotels (because it's not easy to find a nice hotel even with this budget for the whole week).
In the end, we found a good compromise that covered our costs and we had fun sleeping in a hotel that totally suited us!
OUR HOTEL IN NEW YORK
We were at CitizenM Bowery and here are the reasons for our choice which was not a coincidence but the result of a (long) research and comparison on Booking.com !
---
The neighborhood & proximity to the Metro.
If many people say that you have to sleep in Times Square to be in the heart of the Big Apple, we don't agree! We were very happy NOT to have chosen a hotel there. Times Square is constantly noisy, a crowd of tourists, the very symbol of the consumer society, giant screens on 24 hours a day and ultimately it's anything but a New York atmosphere!
We were in the Lower Manhattan (at the foot of the Bowery metro). We forget the skyscrapers and the crowds, make way for a much more pleasant and hipster district. (We also recommend the most practical districts in pink on the map below).
---
The design, service and decor of the hotel
We are more the type to like stylish places (Boutique Hotels), and we generally avoid standardized chain hotels, with decor that depresses us. That being said, the atmosphere can be expensive in New York… With the CitizenM we have found a very good accommodation option that remains "affordable" (for NYC) in terms of its comfort, design and the services offered.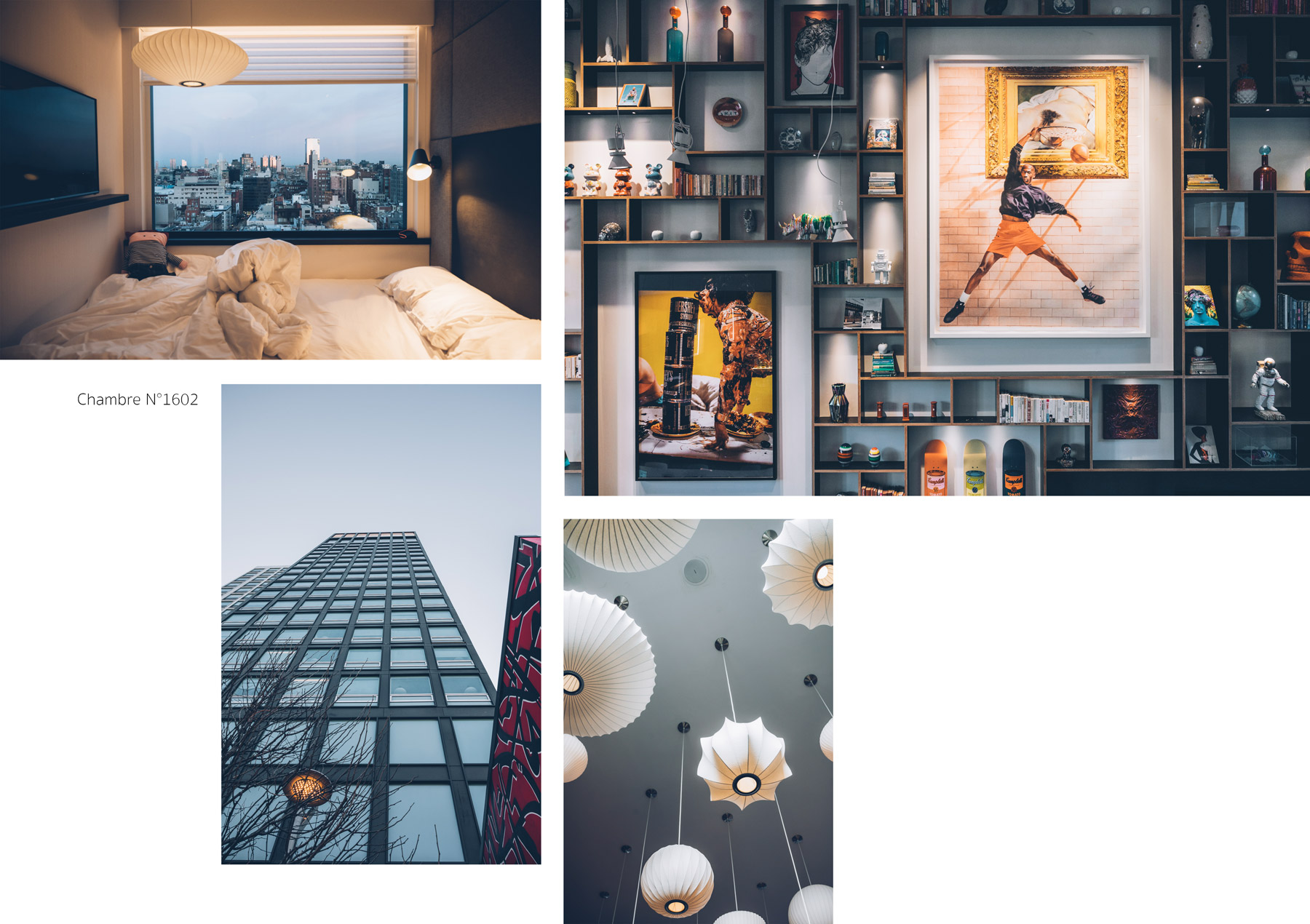 ---
The (beautiful) icing on the cake of this hotel, the CloudM, a roof terrace with a 360° view of the city. We won't forget that first morning when we went up there to the 21st floor. The sun was also rising, it was magical! The panorama was breathtaking over the whole city. We went back several times during our stay, in the evening for a drink, such a typical experience to do in New York!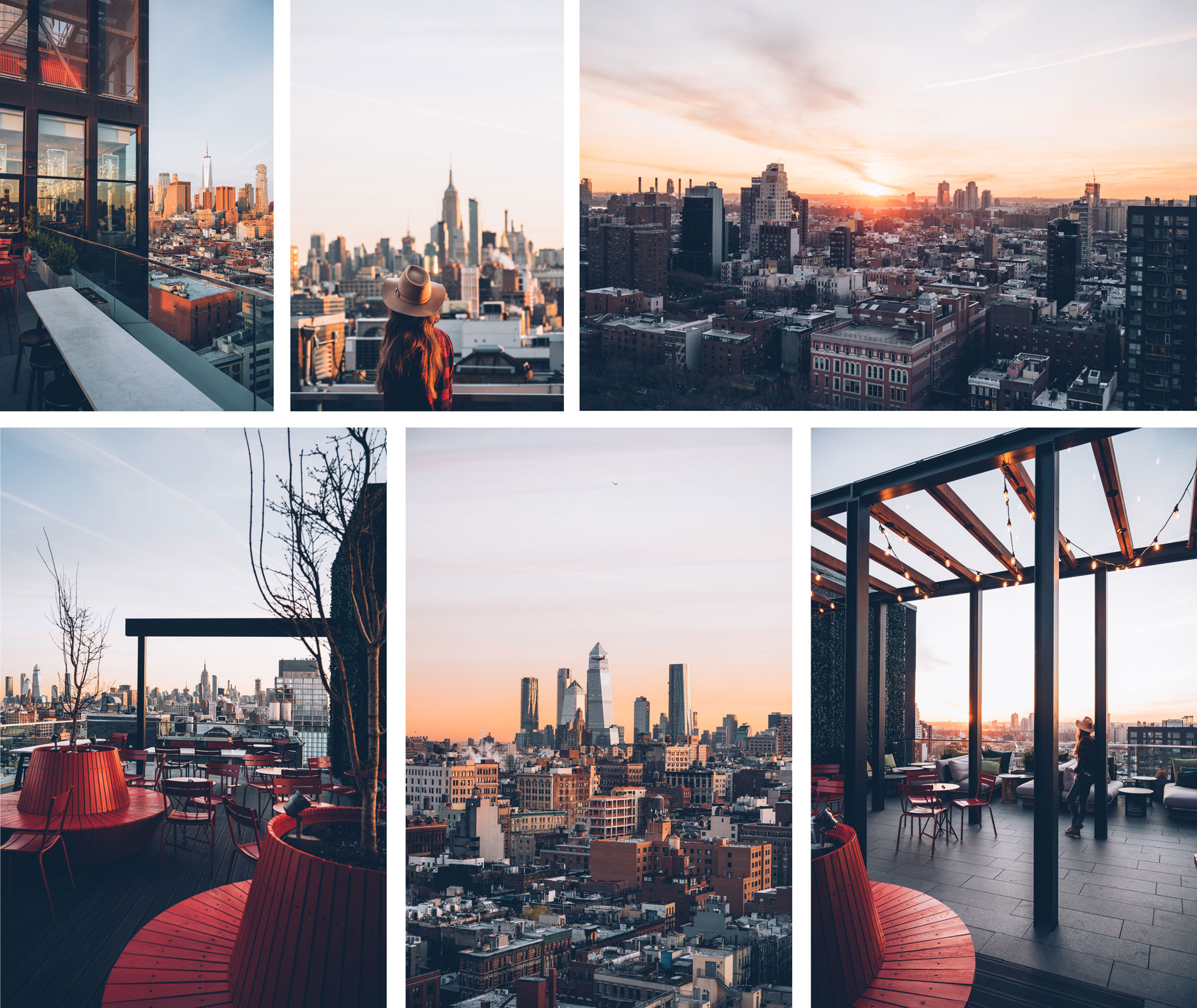 ---
Like all hotels in New York, prices vary greatly depending on the month of the year. You should know that January and February is a very good time for those who leave with the smallest budget. It will be cold but seeing New York in the snow must be something enchanting.
In April 2019, booking barely a month before, we got the room at 200€/night. (Without breakfast. In NYC it is often not included… at CitizenM, it was $17/pers)
The best price: €130 per night in a double room (January, February for example).
Autumn (September-November) is a very expensive period with Halloween parties or even the marathon, prices soar to more than 300€ per night…
In short, you have to look, compare and Booking.com, you can find great offers, so you might as well have fun!
PS: Remember to ask when booking and / or check in to be on the high floors to have a better view.
3. OUR SELECTION OF BOUTIQUE HOTELS IN NEW YORK
Because we spent time doing research to organize our trip to New York, we think we'll share with you our favorites by neighborhood, the hotels we had selected, or that made us dream ! This may be helpful and save you time. Don't miss our selection on the Myboutiquehotel.com website which is very convenient!
---
Midtown/Central Park south, Times Square, Chelsea and around
SOUTH OF CENTRAL PARK
TIME SQUARE
Before seeing this area for real, we didn't know and thought like many that it was The Place to Be for visiting NYC, even if central and very well connected by public transport, we don't necessarily recommend staying there except if you like highly touristic and hectic places to party.
CLOSE TO CHELSEA
---
Lower Town / Soho, East Village, Greenwich Village, Lower East…
We really think it's the best place for a first time in NYC, very strategic to shine in the Big Apple! The neighborhoods are super nice, quieter and more authentic.
---
OUR LAST 5 TIPS FOR FINDING A HOTEL AT THE BEST PRICE IN NEW YORK
1. Book as soon as possible! New York is one of the most visited cities in the world, the best hotels leave first… 6 months in advance if you can and especially if you visit NYC in high season (fall, end of year party, summer school holidays )
2. Offer with free cancellation : if you do it early, think about this option, and you can then continue your watch on hotel comparators like Booking.com to try to find better.
3. On Booking.com, search using the location on the map, this allows you to see the differences in fares from one district to another and to locate the proximity to the metro.
4. Always take a hotel next to metro (5-10min walk maximum) to get around the city quickly.
5. Help yourself with customer ratings and reviews. On booking.com, a hotel with less than 7.5/8 is generally disappointing, in terms of cleanliness, service or comfort.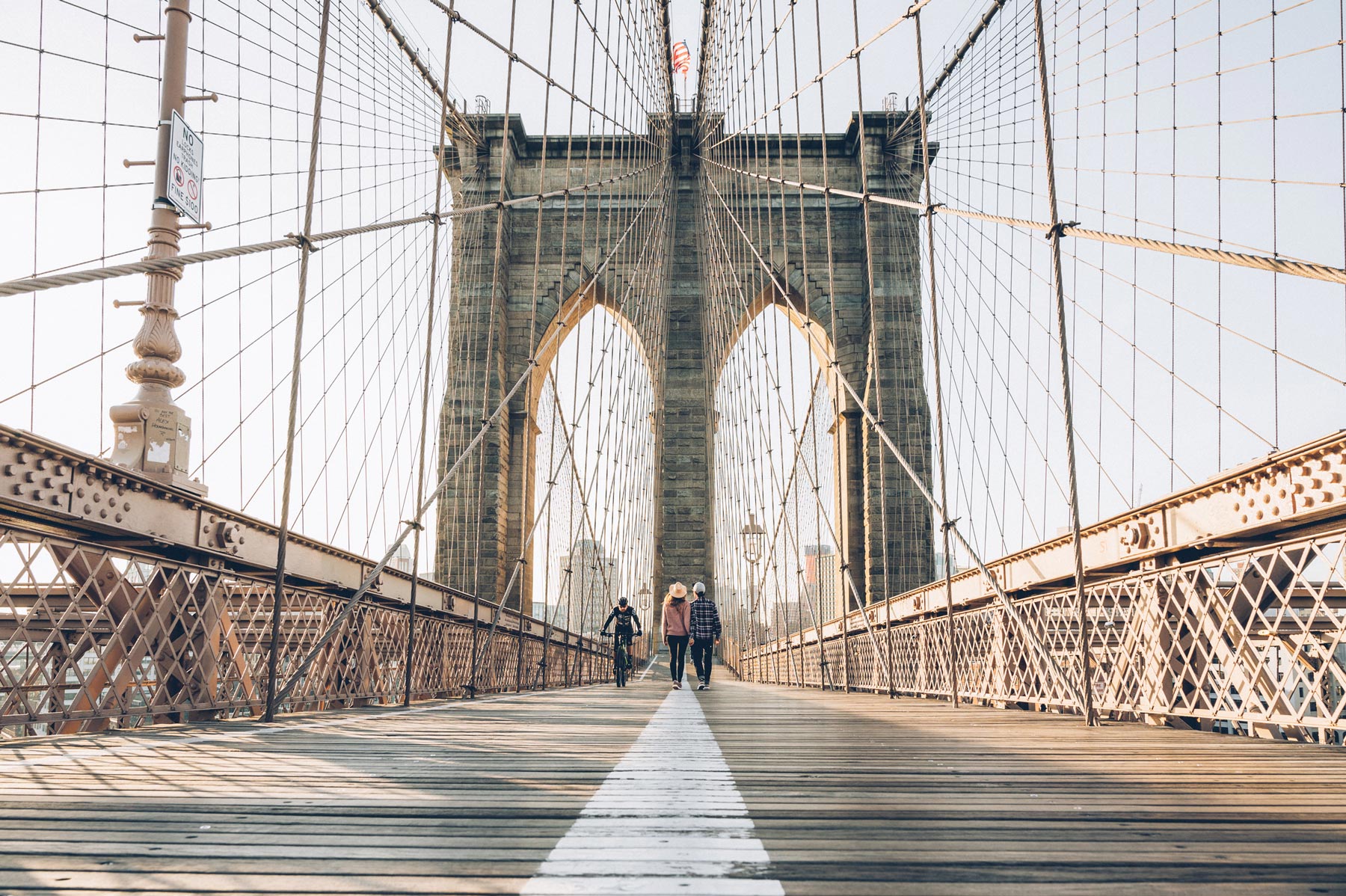 ---
You now have all the information to book your accommodation in New York and make the right choices! Do not hesitate to share in comment a good hotel plan that you could have tested during your stay in NY.
---
Similar items